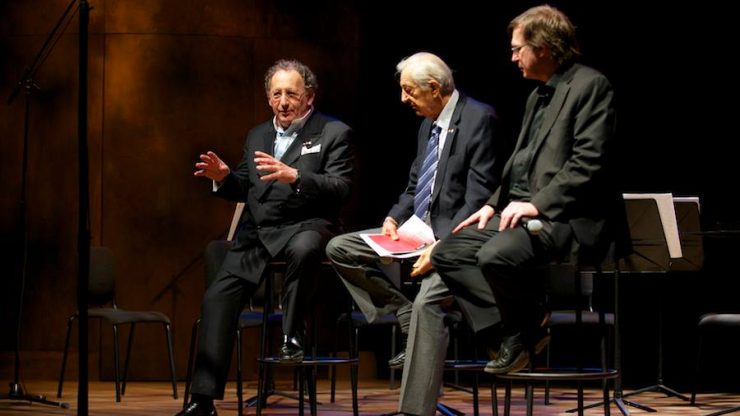 On May 5th, conductor Boris Brott will introduce La Suite du Promeneur to the McGill Chamber Orchestra's program. Louis Babin and Brott will be reunited 23 years after the work's initial creation by the Orchestre de l'Isle, which the maestro conducted at the time.
The concert will take place in the magnificent Montreal Museum of Fine Arts' Bourgie Hall at 20:00.
La Suite du Promeneur has been performed by many orchestras since its inception and broadcasted in numerous countries. La Suite appeals to the listener's heart and his desire to live life to the fullest. As Louis Babin observes in the program notes,
"Do not be a mere spectator. Do not be afraid of mistakes. Go to the end with the undoubted satisfaction of not being outdone by life."
Boris Brott, Louis Babin, as well as Belgian violinist and guest soloist Marc Bouchkov, will take part in a discussion preceding the concert, at 18:30. Bouchkov won the First Prize at the 12th Montreal International Musical Competition.
Selected works by Haydn, Mendelssohn and Tchaikovsky will also be performed.
Agenda de LaPresse.ca
Source in French : Orchestre de chambre McGill présente son concert Violon premier prix | LaPresse.ca
Also in English : https://www.mbam.qc.ca/en/shop-online/concerts/mcgill-chamber-orchestra-first-prize-violin/1062/
Here is a glimpse of it, the second movement of the Suite du promeneur : L'extase
The Moravian Philharmonic Orchestra, Petr Vronsky directing, Olomouc, Czech Republic, 2012